Planning and operating a
resort-based spa
By Patricia A. Monteson and Judith L. Singer
Journal of Leisure Property, December, 2002
Abstract
The purpose of this paper is to provide information for owners, operators and developers of resorts who are thinking about adding a spa to their property or project. The definition of a resort, in the context of this paper, is a place where guests visit for recreation, health and pleasure. The location is very important and resorts can be found in places such as beaches, mountains, lakes, tropical settings or in areas that offer outdoor facilities for recreation and sports, such as golf, skiing, tennis and others. In the USA the market for a resort has long been the leisure guest but, over the years, most resorts have had to attract the convention and conference market in order to survive. Today, many resorts have a higher percentage of group business compared to that of their leisure market. The paper will outline a step-by-step process which includes studying the market, developing the concept, defining the objectives, developing the budget, planning the facility and beginning operations for a resortbased spa.

Introduction
A health spa at a resort has become an important feature for a growing number of today's travellers. This trend began to be seen in 1997, when the authors' firm conducted a spa-goer market study. [1] It surveyed 2,332 guests who were using the spas at the 28 US resorts participating in the study. When asked 'Would you choose one resort over another because it had a spa?', 81 per cent of these spa users said 'yes'. Today, it is not uncommon for a resort spa to attract, on average, 15–25 per cent of the in-house resort guests (Figure 1). Resorts that attract primarily a leisure market tend to have higher spa utilisation — in some cases it can be greater than 50 per cent of their guests. [2]
For those who are thinking about adding a spa to a property, this paper is intended to provide some helpful hints on getting started. By way of definition, a spa should include some basic components, such as:
a reception area


separate men's and women's locker rooms and facilities, and perhaps a staffed issuance reception desk and a lounge


separate men's and women's facility areas which usually have a steam room, sauna, whirlpool, cool-dip pool and lounge (some spas expand this to include a juice bar and/or small cafe where the serving of wine and beer is optional and not very common in the USA)


an option would also be a co-ed (mixed gender) facility area/ lounge with some of the above amenities


dry treatment rooms for massage and facials


wet treatment rooms for services such as body wraps and scrubs


hydrotherapy rooms for baths and hydro-massage therapies


staffed fitness studio with exercise machines (some resorts may choose to have the fitness component in a separate part of the property and not included in the spa)


an optional exercise studio for classes


retail store/area


salon for hair, nails and perhaps make-up.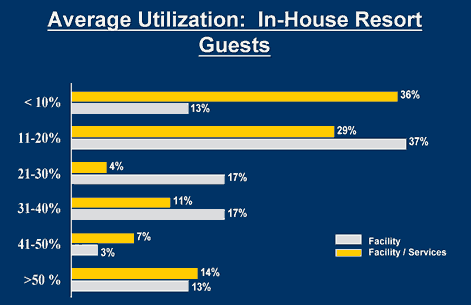 Figure 1: Average spa utilisation by in-house resort guests
Note: For example, 36 per cent of resorts offering a facility only attract less than 10 per cent of resort guests.
The paper begins by defining the two types of resort-based spas identified by the authors' firm: the 'resort spa' and the 'destination spa' or spa resort. At the destination spa, everyone at the property is there for a spa vacation and the outside 'temptations' such as non-spa cuisine, alcohol, etc are usually non-existent. In the USA, the recognisable destination spas are Canyon Ranch and the Golden Door. Guests at destination spas usually participate in a programme based on exercise, healthy eating and spa services such as massage, facials and various body/bath services. Conversely, at the resort spa the guests may not only 'spa' but can also participate in other recreational and social activities typically available in a destination resort. Examples of resort spas in the USA are those found at Four Seasons and Ritz Carlton resorts, the Homestead, the Greenbrier, the Breakers and Pinehurst Resort. This paper pertains to the resort spa.
Recently, many resort spas have become 'signatures' for the property and make a statement in both the facility and services. Some properties have even become notable because of the spa and it features prominently in advertisements and public relations announcements. These facilities are termed 'hybrid spas' since they incorporate the features of the destination spa in a resort setting, and are often even popular places for locals. By having a local market, the resort can yield manage the spa. For example, if the property has a group in-house that is taking most of the guest rooms but is in meetings all day, the spa director and marketing manager can see this ahead of time from the forecast and offset this potential lack of spa business by reaching out to the local market for those days. Another way to yield manage is to try to get the local market to book spa services at times that are less desirable for resort guests.
Today's guest at a resort wants to be taken care of and to recharge and relax. In other words, they want to reduce stress while at the property. Whether guests are at the resort for a vacation, a getaway or a conference, the social and recreational components are vital to their stay. A spa is one more feature that will make a property more inviting to these guests.
To add a spa to a resort, and make it a tangible as well as an intangible asset, it must be properly conceived, themed, programmed, designed, marketed and managed. In order to achieve financial goals, careful attention must be paid to each phase of the project. Although it is difficult to quantify the spa's contribution to additional room nights, occupancy, etc, a 1999 study of US resortbased spas found that spas help resorts with regard to their marketing advantage, revenue per occupied room, occupancy and perceived value for room rate (Figure 2). [3]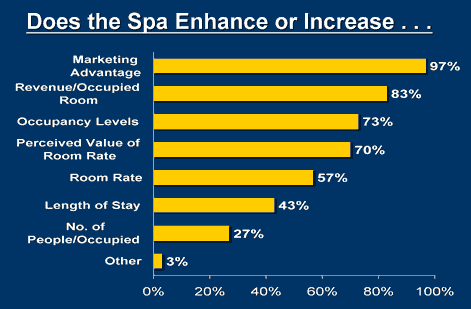 Figure 2: What does the spa enhance or increase?
STUDY THE MARKET
A spa should be market-driven, therefore it is imperative to understand current and future guests. This gives a sense of direction such that managers can develop market-driven programmes that are tailor-made to the needs and interests of each market. Remember that the spa should help the core business, which is selling rooms, and it should primarily be built for these guests. A good beginning would be to define the parameters and guest profile of each resort market, eg social guests, incentive travellers (people, often the top salespeople from a company, who are given an all-expenses-paid trip by the company), group guests, families, couples etc. For example, if the spa closes at 6pm and the hotel is expecting a very large group in-house whose meetings do not end until then, the meeting planner can be asked if the spa will need to extend its hours of operation in order for the participants to use the spa services. It may be desirable to have some special 'healthy breaks' designed for them during the day. As mentioned above, the spa can also be yield managed by creating special programmes or prices for members and local residents to fill the times when resort guests will not be able to use the spa.
Do not be afraid to ask current guests what they want. From this initial survey, a good idea can be gained of whether the spa will appeal to or alienate current guests; will enhance, dilute or detract from the resort's current image; and will attract new markets which will, hopefully, be compatible with existing markets
As for the spa market in the USA, spas continue to market to women and perhaps that is why women continue to make up 70–75 per cent of the spa-goer market. Spas need to expand the existing market by becoming more 'male friendly' in terms of facility features, decor, treatments and marketing strategies. Most men have stress, and they also care how they look and feel.
In addition to primarily being female, today's resort-based spa goer has a number of other characteristics:
80 per cent have a college degree


74 per cent are female


63 per cent are married


60 per cent are baby boomers


55 per cent are 'vacationers'


60 per cent visit the resort with a spouse or friend


70 per cent learn about the spas they visit from 'word of mouth'


81 per cent would choose the resort because of the spa. [4]
DEVELOP THE CONCEPT
Early on there is a need to determine the type of spa one wants to have and what the guest experience will be. This programme should drive the facility planning. Some spas will offer a sense of place and the spa reflects the geographical or historical aspects of the area. Others may take a theme, eg Asian, and then plan the spa services and facility around this.
When developing the concept it is necessary to create the experience, touch the senses, evoke the feelings, create the memories and establish 'signature touch points'. Some spas will create a signature theme, such as age management, medical aesthetics, mindfulness, fitness, wellness, luxury, etc.
The key points to remember are to know the market and the competition, and then to create something that the market wants, the competition is not offering and which will help to increase and deepen the resort's market.
DEFINE THE OBJECTIVES
Be very clear about why a spa is wanted. It is important to realise that although the spa can and should be a profitable department, it is not a 'cure-all' to boost occupancy. It should be one of the many highlights of the property that will enhance the total experience for guests. Typical objectives are to:
generate additional room nights, especially in the off and shoulder seasons


expand the shoulder season/shorten the off season (some resorts have special 'spa weeks' during their off season with programmes targeted to specific groups, eg women over 50 years of age, in order to help increase resort occupancy during this usually low occupancy time)


generate additional revenue per occupied room during the peak season


have an additional profit centre


meet the demands and expectations of guests


enhance the guest experience


be more competitive with other resorts that have spas


provide a marketing edge over resorts that do not have spas


provide guests with added recreational/leisure services


attract a new, yet compatible, market (people who like resorts with spas)


give group guests another reason to return as leisure guests


encourage group guests to arrive a day early or to depart a day later


provide an opportunity to market the resort as an 'incentive' destination for corporate award programmes


enhance spouse/companion programmes for convention delegates


provide an indoor activity during inclement weather
.With regard to generating additional revenue during peak season, in June 2002 HFD conducted a survey of 28 resort-based spas to examine the spas' contribution to the revenue per occupied room (RPOR). The spa gross revenues did not include membership fees and dues, nor any hotel-related room nights and food and beverage related to spa packages. The highest and lowest properties were excluded due to the significant extremes in their numbers. The average contribution to RPOR for the remaining 26 properties was $35.28.
EXAMINE THE OPTIONS
Keep in mind that the various guests at the property will have different interests. Many of them may never go near the spa during their stay. To some, the massage, facial and various body treatments will be their reason for visiting the spa. To others, it may be the pool or exercise room. It is important that these people are attracted into the spa 'through any door'. The intent for these 'first-timers' will be to make sure that, after they enter the spa, they will have a great experience and will want to stay and try some of the other services and activities.
DEVELOP THE BUDGET
A feasibility study should be conducted to confirm the viability of the spa. Once the feasibility of the project has been confirmed, it is necessary to fine tune developmental expenses such as construction, professional and developmental fees, capital expenditures, start-up costs, furniture, fixtures and equipment (FF&E) and operating costs once the spa is open. Determine the expected revenue from sources such as spa services, facility fees, membership dues and retail sales. At this time one should also begin to secure financing, if necessary, with a sound business plan and/or the feasibility study.

The authors have always believed that spas should be run as a business. It is important to understand the risks, opportunities and economic realities of the spa business. Spas can be expensive to build and operate, thus the entire planning process must be thoughtful and well conceived. For example, it is not uncommon for a turnkey, four-star quality spa to start at $350 per square foot, excluding land (this turnkey figure includes construction and built-in equipment such as lockers, sauna, music system, etc; spa-specific FF&E and startup operational supplies; general FF&E such as furniture and interior upgrades; and soft costs such as training, preopening payroll and marketing). Most luxury spas cost upwards of $500 per square foot.
As part of its consulting practice, HFD conducts numerous economic research studies. This is always a challenge since there is no uniform system of accounting for spas in the USA, which makes it difficult to compare numbers accurately. Keeping this in mind, when surveying 30 resort-based spas in 1999 the following figures emerged (as a percentage of gross revenues): [5]
payroll: 35–45 per cent


payroll with benefits (health insurance, meals, vacations, sick pay, payroll taxes): 55–65 per cent


operating expenses: 13–20 per cent


net operating income (NOI) when spa is responsible for all expenses, excluding rent: 15–25 per cent


NOI when the spa is responsible for payroll and products only: 30–40 per cent.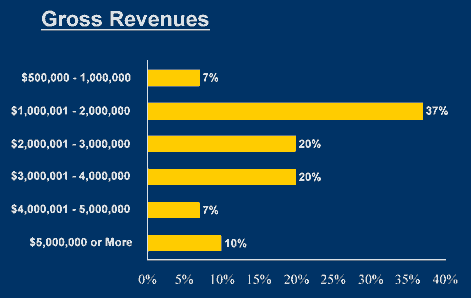 Figure 3: Gross revenues
Figure 3 shows the reported gross revenues from the participants. The spas in this study are either independent business units or are partially subsidised by the resort. None of them pays rent, since the resorts treat the spa as a department of the property. As for the resorts whose spas participated in this study, the average age of the spa was ten years; the average number of resort rooms was 607, with the highest having 5,005 rooms and the lowest 106; most of the spas were either between 10,000 and 30,000 square feet (37 per cent of the respondents) or 30,000–50,000 square feet (40 per cent); and the average market mix of the spas was 44 per cent leisure resort guests, 33 per cent conference resort guests, and 23 per cent day guests and members. Most resort-based spas are not independent business units. They receive some subsidy from the resort and very few, if any, pay rent. Since there is no uniform system of accounting used by spas in the USA, it is possible to use a 'zero-based' budget when developing a pro forma. Some of the data to be collected and analysed for a zero-based model include, but are not limited to, number of hotel rooms; occupancy per room; length of stay; occupancy by season and average occupancy for a five-year period; market mix by social/ leisure, group and business; future plans for the resort; demographic profile of existing and future markets; and competitive market research on utilisation and performance. Labour is the most expensive operating cost. Planning less labour-intensive facilities and creating a realistic (for both employee and employer) salary package for the spa staff is something the spa industry needs to address. While it is reasonable that salaries and wages at stabilised spas (ones that have been in business for at least three years and have a good business record) are in the 50–55 per cent of gross revenue range, some spas are at 80 per cent or higher.
PLAN THE FACILITY
The key in planning a marketable and profitable spa is to make sure the spa is based on a well-conceived concept that is sensitive to guests while also being effcient from an operational perspective. No matter how small the spa, it should offer enough to create an experience for its guests.
During the planning stage it will be important to be aware of the spa's impact on other resort departments, such as laundry, housekeeping and maintenance. It is necessary to obtain a laundry/ linen requirements list that details the number and par of each item used in the spa (based on projected spa occupancy, number of items used in each treatment and projected utilisation of each treatment, eg massage, facial, body wraps, etc) in order to see if the current laundry department can handle the increase in load. The housekeeping department may be assigned to do the night cleaning of the spa. The department manager should be given clear written directions for each area to be cleaned and should go on several tours of the spa, with the cleaning crew, to familiarise them with the facility. As for maintenance, one area to be aware of during the planning is ensuring that the materials used not only look good but can also be easily maintained. For example, if the interior designer wants to have limestone counter tops for the locker-room vanities, a less porous material should be suggested since the grooves in the limestone will be impossible to keep clean, thus giving the counter tops a dirty, unappealing and insanitary look.
BEGIN OPERATIONS
It is important to integrate the spa into the resort and vice versa, so a system must be established to ensure quality assurance, customer service and a smooth integration between the spa and the other resort departments. The money spent on construction will be worth the investment only if the spa is properly managed.
Labour continues to be a challenge for many spas. When planning the spa, make sure thought is given to the number of staff needed and where/how the resort is going to find, train and keep them. Creating the right compensation (pay), incentive and benefits package will make a significant difference in attracting and retaining staff while making sure the spa is an economically viable business. Finding and retaining a good, affordable and loyal spa director can also be a challenge. It may be possible to hire from within and then develop a training programme for this person. If this scenario is possible, it really works well for the resort since the person has the stability of already being employed by the resort, in some cases for years; understands and is part of the culture of the resort; has friends at the resort and in the area; sometimes has family nearby; and, finally, it shows all employees that they have the ability to move to different areas in the resort, thus enhancing their job satisfaction and career prospects.
As previously mentioned, the spa should offer an experience to guests, but this is not to infer that one must have a plethora of spa services. More is not necessarily better. Offering what amounts to an encyclopedia of spa services is confusing to most guests and adds to the very stress they are trying to reduce in the spa. For example, many guests do not know the difference between various types of massage. When creating a spa's menu it is desirable to list a customised massage (this may have the spa's name or some other signature definition). This customised massage enables the therapist to personalise the service, using various modalities specific for the guest's wants and needs. The menu can then be enhanced with some special massages such as stone therapy, sports massage, lymphatic drainage, reflexology, etc.
The same holds true for body treatments. Try not to be trendy with these. Many spas have gone too far with 'catchy' spa treatments that are used more for marketing than for benefiting the guest. Remember that extensive treatment menus also mean a large inventory of products and more training.
In a 1999 economic study of US resort-based spas, [6] the two most popular spa services were massage and facials. All the participants ranked massage first in terms of usage and revenues, and 90 per cent ranked facials second in usage and revenues. Furthermore, in the last few years there has been an increase in the usage of facials by both men and women at resort-based spas. One reason may be that baby boomers are attempting to manage the effects of ageing and realising the benefits of good skin care.
In market studies of spa users it has been found that most of them like to take à la carte services rather than being on a spa package. [7] The category that contributed the highest percentage to spa gross revenues was à la carte services (55 per cent). Spa packages were the second highest line item at 13 per cent. The remaining categories (facility fees, retail, salon services, memberships and food and beverage) each accounted for 10 per cent or less (Figure 4).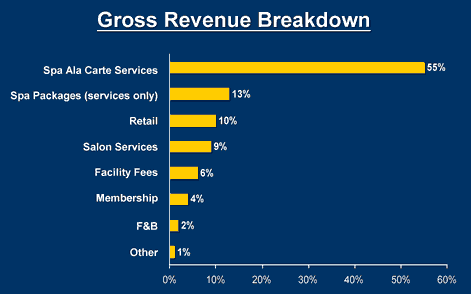 Figure 4: Gross revenue breakdown
Facility fees or daily membership fees for hotel guests can sometimes present a barrier to entry. The fee is sometimes waived in full or in part; however, this revenue is often important to the resort since it can cover fixed operational overheads
Retail is an untapped potential. Most spas get about 10 per cent of their gross revenue from retail, and this is probably too low. A more acceptable figure would be 15 per cent. By nature, spa service providers are nurturing individuals and the concept of 'selling' is not comfortable for many of them. Ways to help them, and the spa, to increase retail revenues would be firstly to train all staff to give a great treatment so guests will want to buy the products used and create their own 'home spa'; to give the staff an incentive by offering them a percentage of their retail sales (this can be a sliding scale, based on volume); to provide 'prescription pads' (retail forms usually provided by the product companies) so the service provider can check off what products were used during the treatment; and to offer products that are sold only in fine salons and spas and can only be purchased from a spa and not department stores, the Internet, etc. Retail should be an ongoing extender of the brand identity and equity. It is the only annuity a spa has because it is consumable; it also has the highest profit potential and is not labour intensive.
Once operations have begun, the key to profitability is to drive the top line by getting people in the door, giving them a great experience and getting them to return. Many resorts in the USA use RPOR to measure the spa's contribution to the property.
It is necessary to work constantly at maintaining standards in the spa. Conduct periodic reviews to make sure the quality and consistency of the service and spa treatments are always at the highest level. Control the payroll and other operating expenses, and the result will be a spa that not only enhances the guest experience, but also the bottom line.
SUMMARY
Spas will continue to be an important component at resorts as more people become aware of them and also associate a 'spa experience' with 'reducing stress' and 'being taken care of'. In order to capitalise on this growing trend, some basics need to be followed. Hopefully, this paper has given some 'food for thought' on the process. Remember:
understand existing and future guests


define a marketable concept


properly plan a flexible, comfortable and operationally efficient facility


make realistic financial decisions in terms of pre-opening expenses, operating costs and revenues


design a workable and accountable system of operation


provide ongoing staff training and evaluation


adjust to trends, but do not run the risk of being 'trendy'


listen and respond to the market.

References
[1] Monteson, P. and Singer, J. (1997) 'Who Are Today's Spa-Goers & What Do They Want? Results of the 1997 HFD Spa-Goer Market Study', Spa Management, Fall,
available online at http://www.hfdspa.com/nws1.htm.
[2] HFD (1999) 'Economic Study of US Resort-Based Spas', see www.hfdspa.com: N = 30.
[3] Ibid.
[4] Monteson and Singer, ref. 1 above.
[5] HFD, ref. 2 above.
[6] Ibid.
[7] Ibid.
© HENRY STEWART PUBLICATIONS
______________________________________________________________________________
Patty Monteson is the co-owner of Health Fitness Dynamics, Inc. (HFD), an internationally recognized firm that specializes in the design, development, and marketing of health spas for fine hotels & resorts, day spas and mixed-use developments. Since 1983, HFD has been the spa consultant to over $600 million of completed spa development. In addition to consulting, Patty has also overseen several HFD consumer and economic spa research studies. She has published numerous articles about health spas in hotel trade magazines; has been featured and interviewed by national magazines, newspapers and cable television; and has presented seminars on spa development and management to international conferences in North, South and Central America and Europe. Patty is an associate member of the Urban Land Institute (ULI). She also serves on the President's Advisory Council for Slippery Rock University and is on the Board of Directors for the International Society of Hospitality Consultants (ISHC). Patty received both her Bachelor and Master of Science degrees from Slippery Rock University in Pennsylvania and, in 1991, was given the honor of being named Alumna of the Year.
Judy Singer is co-owner of Health Fitness Dynamics, Inc. (HFD), an internationally recognized firm founded in 1983 that specializes in the design, development, and marketing, of spas for fine hotels & resorts, day spas, and mixed-use developments. HFD has been the spa consultant to more than 50 completed projects totaling over $600 million of spa development for clients such as the Pinehurst Resort and Country Club in North Carolina, Four Seasons Hualalai in Hawaii, The Sanderson in London, and the Sonesta Hotel in Cairo. Judy has published in prominent trade publications and speaks regularly at international spa, hospitality and tourism conferences. Judy is a member of American Hotel & Lodging Association (AH&LA), International Health, Racquet & Sports Club Association (IHRSA), International Spa Association (ISPA) and a former chairperson of the International Society of Hospitality Consultants (ISHC). She received her Bachelor degree from the University of Massachusetts and her Masters and Doctorate degrees from Boston University.

[ Home || What's HFD? || Scope of Services || Clients || News/Research ]
---
Health Fitness Dynamics, Inc.
1305 N.E. 23rd Avenue, Suite 2, Pompano Beach, Florida, U.S.A. 33062
Phone: 954-942-0049 - Fax: 954-941-0854
E-MAIL: hfd@hfdspa.com