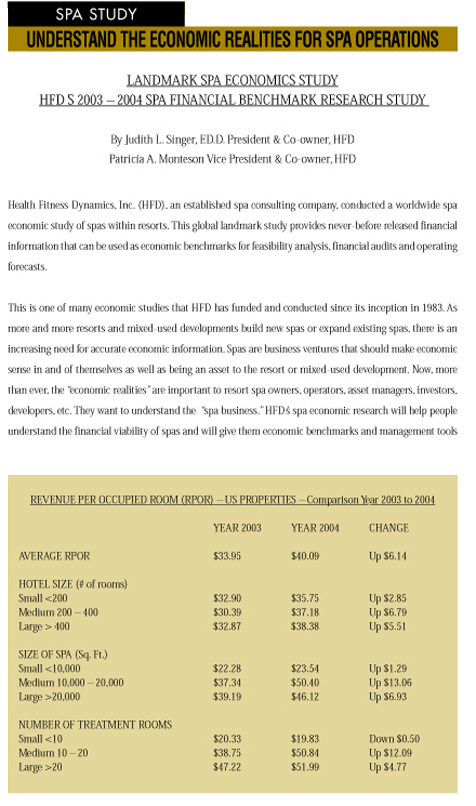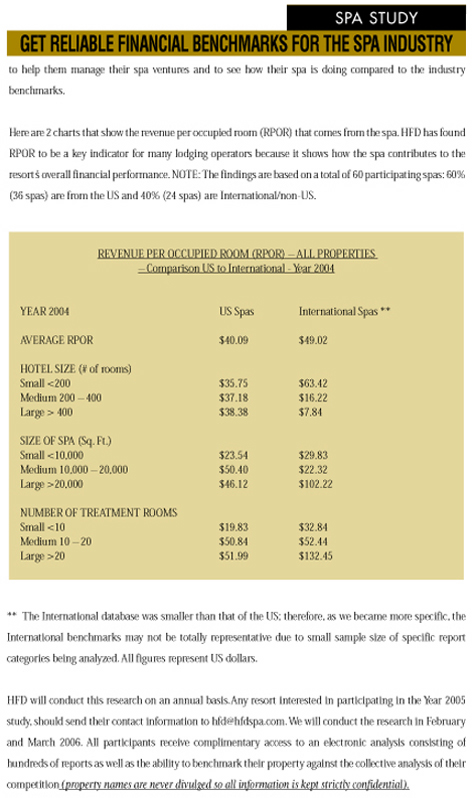 Health Fitness Dynamics, Inc. (HFD) is an innovative full service spa consulting, planning, marketing and management advisory company that is owned and managed by Judy Singer, Ed.D. and Patty Monteson, M.S. Since 1983, the Pompano Beach, Florida, United States corporation has worked primarily with fine hotels, resorts and mixed-use real estate developments that want to have a marketable and profitable spa that complements and enhances their core business which is typically to sell hotel rooms and lifestyle real estate.

HFD has been the spa consulting company to over US$650 million worth of completed spa development.

For more information about HFD as well as HFD's library of spa articles and other research studies, visit our website at www.hfdspa.com. For specific inquires, please call HFD at 954-942-0049 or write to hfd@hfdspa.com.

[ Home || What's HFD? || Scope of Services || Clients || News/Research ]
---
Health Fitness Dynamics, Inc.
1305 N.E. 23rd Avenue, Suite 2, Pompano Beach, Florida, U.S.A. 33062
Phone: 954-942-0049 - Fax: 954-941-0854
E-MAIL: hfd@hfdspa.com